LION THOUSAND ISLAND DRESSING 2x2.27lt
All
/
Groceries
/
Tartare Sauce & Dressings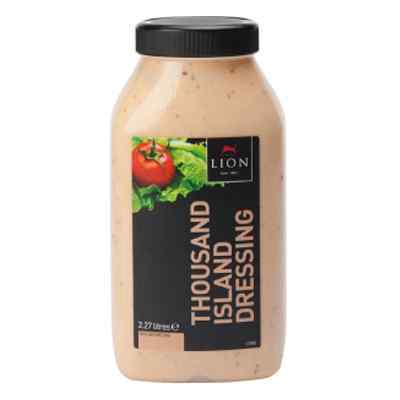 LION THOUSAND ISLAND DRESSING 2x2.27lt
Stock code: CKI037
Delivery: £
16.99
Collection: £
14.49
LION THOUSAND ISLAND DRESSING 2x2.27lt
Product Description: Appearance /Texture: A flowing pourable liquid dressing. Colour is salmon pink when first produced – darkens throughout shelf life to pink with orange notes. Visible red and green inclusions (gherkins and red pepper). Small particles of spices and powdered ingredients are also visible.
Taste: Sweet, fruity, vinegary aroma with hints of vinegar and tomato. Typical of Thousand Island Dressing.
Aroma: A creamy tomato dressing, with a vinegary flavour with hints of sweet/savoury tomato, gherkins and red pepper notes.